Unable to concentrate on Growth.
while busy gathering data on the company's day-to-day operations?
Worry Not! ! Check out the video of Mr. Singh dealing with the same issues, but will he be able to figure out the right path or The Right System to assist him refocus on his growth?
HR
is the soul of a business
and TrackHR is here to help you manage your business efficiently!
With a growing business and expanding teams, the challenges to manage work and analyse every minute to address wastefulness and inefficiencies also increase.
TrackHR solves all your business-related problems. Making it exceptionally easy to Monitor your Team and employees, Analyse your team's performance automatically and Manage your Businesses Virtually from anywhere on a Real-Time Basis.
With a unique blend of algorithms and cutting-edge technology, TrackHR offers a wide range of high-quality services to fulfil all of your business's needs.
GPS based Attendance
With the help of Automatic GPS based Attendance, get live notifications of every team member as they Check-In/Out, along with the site location.
Daily Task (KRA) Tracking
TrackHR has built-in KRA tracking, resulting in a demonstrable increase in team productivity.

Automatic Salary Calculation
Work hours and overtime salary sheets are just a click away with automated attendance.

Employee Performance Analysis
Keep track of individual employees' performance with complete transparency and without bias, using only pure and accurate data.

Privacy Assured Information Sharing Platform
A built-in messaging system allows you to easily share information while maintaining complete anonymity.

Automatic Daily Work Reports
At a set time, send daily work reports, organisational reports, and automatic signals to all management and team leaders.
The whole organisation on a single platform
Organizational charts begin to take shape without any additional effort as employees/colleagues register by scanning the manager's QR code. The TrackHR hierarchy displays the organisational structure as well as the live status of employees, as well as the following information for all employees:

In Field
Working from Home
A fast and secure way to track your daily attendance.
On TrackHR, any employee can Check-In/Out from inside the specified office area, allowing attendance based on Geo-Fence.
Employees working outside of the office boundary can check in and depart by selecting In-Field or Work From Home. Every Check-In/Out sends a real-time notification to the manager, including the employee's current location.
Simpler tracking of daily travel routes and timelines
To preserve security and efficiency, keep track of your team at all times. Improve your company's logistics efficiency by analysing and planning better field force routes. Automating travel allowance monitoring and analysing daily logs to optimise travel routes and plans will help you save money. To eliminate communication delays and recurring management expenditures, set a travel target and restrict alerts to notify management in real time.
Never miss another deadline or essential piece of information.
To keep focused and on track, set up automatic reminders for your projects and deadlines. Focus on your task because Automatic Reminders are set up for that job and will keep the team on track, reducing management and follow-up activities. The Reminder Service automatically sets reminders for you.
 Due Dates of Scheduled Tasks
 Meeting Alert (5 minute prior to Scheduled time)
 Daily Shift Check-In and Check-Out time alert
 Planned routine activity alerts
Easily keep track of your everyday checklist items.
'Activity' allows your team to construct a list of routine chores, as well as KRAs and time logs. Create, track, and review all of your KRAs for yourself and your team on the same platform.
Setting up and reviewing KRA execution plans has never been easier, allowing you to focus on the important things.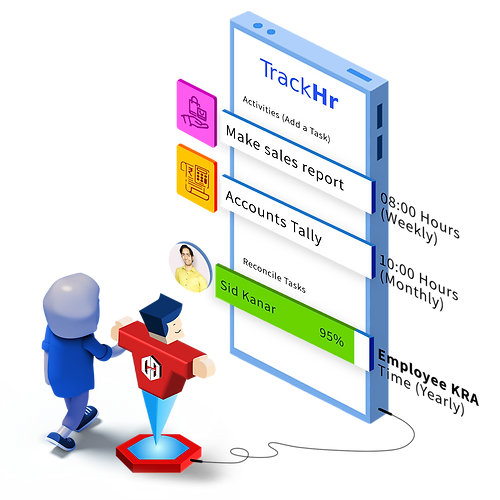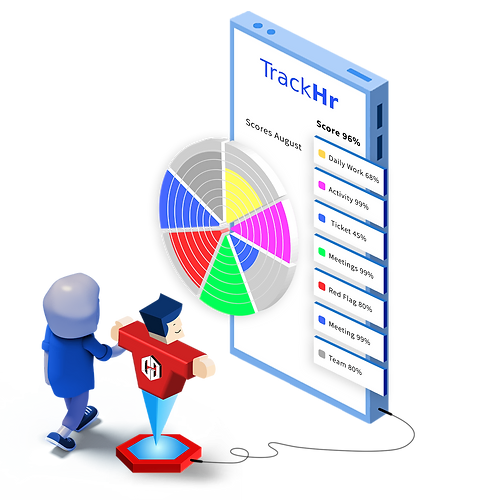 Determine the areas where you and your team can improve.
Every employee's real-time score matrix, based on daily tasks and plans, so you're always up to date on your performance. Graph illustrating performance in different areas such as:
 Work Time Utilisation Score
 Routine Activity Score
 Task Completion & Delay Score
 Daily Attendance Score
 And many more..
Accurate and timely scoring analysis of each area provides you with a better understanding of the key focus areas and chances for growth, allowing you to lead the way for your team and organisation.
Talk with your teams about work with our in-house chatting.
Communicate across teams easily with our in-house chatting facility.
Share PDFs, images, files and messages securely within your work circles and avoid mixing work messages with social messages, and boost efficiency!
TrackHR brings to you loads of top-notch services to meet all your business-related
needs with a unique blend of algorithms and state of the art technology.
This is a good way to organize people and see the production details step by step on the tips from the phone(android as well as ios and even web based)
Dhairya Raj Nangia –  R&D Engineer Encoders India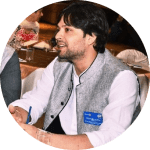 For any organization's growth, the key is it's Team efficiency. TrackHr has provided us all the tools to increase it.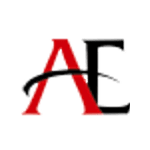 Prateek Gupta – Director Group Arvind

I just wanted to share a quick note and let you know that you guys do a really good job. I'm glad I decided to use this app. It's really great how easy it is to track our performance and manage it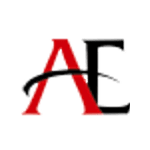 Vaishali Singh – IT Adm. Arvind Engineering Group    

I have been using trackhr for almost 7 months now. Its a great tool not only for the organisation but also for one's own working. Here I can track my subordinate's performance and also can keep a track of job costings.
Dhruv Raj Nangia– Head Marketing Encoders India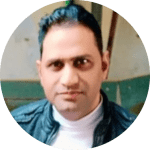 Hi friends,
I am satish Nagar working in M/s Promptech Industrial Products As a Sr. Accountant. we have useing the Trach Hr service for employees punching attendance & app.
This apps service & tracking of punching of employees reports very goods. It's provide the all types of reports .
Thanks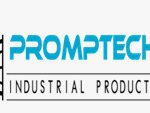 Satish Nagar- Accounts Head Promptech industrial products  
Dear "Track HR" team
Thank you for providing such a useful mobile app software which is running smoothly since last few months. It is really time saving app. Ticket raising really works for instant reminders and getting the things done in time. Jadly Foods team implementing the features of this app with support and coordination with you all.
Anu mehta- EA To Director Jadly Foods 
We are also growing and adding new features every day
Check out these video tutorials to know more about the app and user interface.
And there is nothing better than trying for yourself.
Don't worry we have made it all very simple for you. Download Now!
We simplify all the HR tasks for you to let you focus
both on People and Processes.